For Sale: 2009 Harbor 20, # 292 "Marissa"
SOLD
Dark Blue (Aztec) hull, Gold tape cove stripe, White waterline stripes, and Red Pettit Trinidad bottom paint.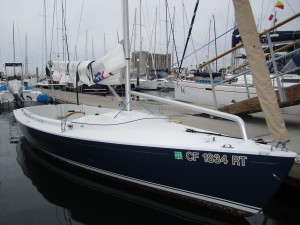 Includes the standard boat and the following options: Custom hull color, cove stripe, and waterline highlight stripe. Electrical system, digital electric motor, Automatic 12v bilge pump. 2:1 jib outhaul, jib winger, Mast hinge, Windex, Adjustable jib downhaul, Tiller extension – telescoping 19" to 32". Halyard hammock, Pop up mooring cleats (2 stern, 2 spring, and 2 bow). Block foam flotation, C-foam cockpit cushions, Cockpit table, Cockpit cover w/jib sock – Sunbrella "Toast". Elliot/Pattison main, Ullman, jib, Elliot/Pattison asymmetrical spinnaker – Red/White/Blue star pattern.  Asymmetric spinnaker equipment, Ensign & staff, Safety package, Bow chocks. Also included in the purchase price is a complimentary private Spinnaker lesson on the Marissa from an expert at WD Schock!
"Marissa" was custom built and is one of the most complete and loaded Harbor 20's ever produced by WD Schock.  Located in Marina Del Rey, California.
$26,800
Call or Email Ruck @ (310) 804-6002