The Harbor 20
The Classic Modern Daysailer
Schock blended the classic beauty of a traditional daysailer with state-of-the-art marine technology. While the Harbor 20 presents a graceful shearline counter, its thoroughly modern underbody and rig make for a fast and easily-handled contemporary daysailer. The result is a competitive, cost effective and easy-to-use boat that will always be in style.

With incredible stability and loads of conveniences, the Harbor 20 can be rigged in minutes and sailed single-handedly, or with a group. There's no better opportunity to share sailing excitement with friends and family-whether they're seasoned sailors or not.

Celebrating 51 years of boat-building excellence, the Schock heritage continues with the Harbor 20.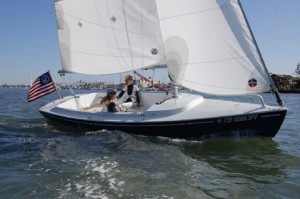 Comfortable Cruising
The Harbor 20's accommodating cockpit holds up to eight guests and no one needs to sit on the rail to balance the boat, or duck under the boom when tacking. Deep coamings provide comfortable back support, and two easily accessible ice chests quickly render your favorite refreshments.
Competitive Racing
The Harbor 20's 900 lb. torpedo-like bulb keel keeps the weight low in the water. This keel design gives the boat plenty of stability in heavy winds without slowing the boat down in light air with excessive weight. The Harbor 20's excellent performance makes it a natural club racer. W.D. Schock builds the Harbor 20 to tight one-design class rules, already written and established for fair and competitive racing.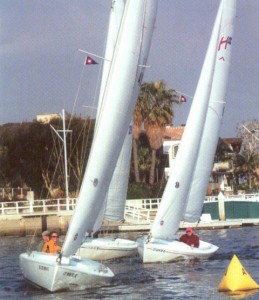 Control Panel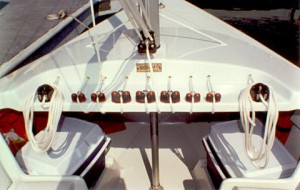 All halyards and lines are let below the deck. They lead to the Harken hardware mounted on a shelf at the aft edge of the cuddy cabin. This sensible design keeps thedeck clean, simplifies sail control, and allows sailing to become second nature.
Club Boom
The self-tacking Hoyt club boom makes short-tacking up the harbor very easy indeed. Roller Furler In seconds the jib rolls out, making sailing safer and simpler.
Convenient
The Harbor 20 was designed with simplicity in mind and a competitive spirit at heart, whether you're sailing upwind or downwind. For example, a roller-furling fractional headsail and self-tacking club boom help the Harbor 20 practically sail itself upwind. When running wing-and-wing, the club boom acts as a vang, effortlessly holding out the jib. The full-battened main stows neatly on the boom using lazy jacks. Finally, the control panel just behind the mast is centralized convenience at its very best. So, when you're ready for the wind and sea, so is the Harbor 20.