Phyllis Drayton
This week, I took the opportunity to learn about Phyllis Drayton and the good times she is having on our harbor.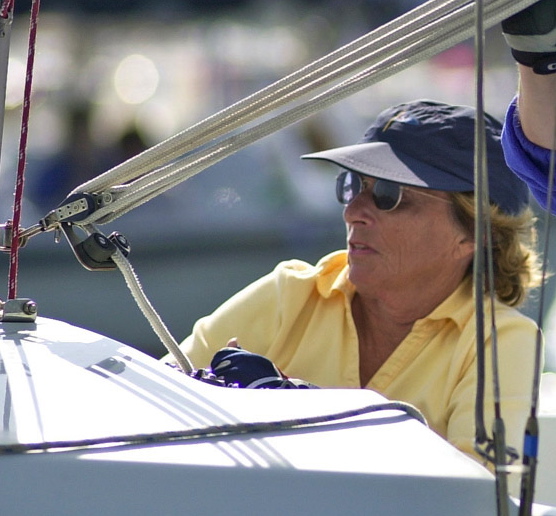 I first met Phyllis sitting across from her and her husband George at last year's Harbor 20 awards banquet. After I introduced myself, she said, "Len Bose, ooh, I read your articles. You know, my son John also writes a boating column in the local paper." This perked my ears and made me sit up a little straighter.
I have come to learn that Phyllis' family owned a home on Balboa Island in the 1930s-1950s and sailed an eight-foot Balboa Dinghy, a predecessor to today's Sabot. She and her sister Ann moved up to race Snowbirds and competed in many of the Flight of the Snowbirds races.
She then became involved at the Balboa Island Yacht Club and became the club's secretary in the early 1950s, all the while staying active in the Snowbirds, Lehman 10 and Sabot fleets. After moving off the island, she returned in the 1980s and '90s to teach young mothers how to sail. Her son John said, "I'm still surprised occasionally to hear from someone who was taught to sail by mom on Balboa Island.
"She first started racing at NHYC in 1946, 67 years ago! She has raced more or less continuously since then."
In 1985, she was the senior Sabot national champion and enjoyed competing in the Mother Sabot Amazon Race around Lido Isle. Phyllis was one of the earliest members of the Mother Sabot group started at the Newport Harbor Yacht Club in the early 1970s and remained active for the next 40 years as a Sabot mom. As a family, the Draytons spent many summers at Moonstone Cove on Catalina Island on their Cal 25 and Cal 29.
The Draytons were one of the original five people to purchase a Harbor 20 in the early 1990s. John explained the purchase: "Mom and Dad bought Harbor 20 No. 5, 'Whim'; it was actually Mom [and not Dad] who put the money down for this boat. First group on the bay — their boat was actually No. 3, but she felt 3 was an unlucky number, so she had it changed!"
The Draytons have been very active in the Harbor 20 fleet over the last 20 years. Most of the time, it's been George and Phyllis out on the water together with an occasional appearance from one of their three sons and one of their grandchildren.
This type of family tradition of boating in our harbor is now approaching four generations, within many families, and it's something that truly inspires me in many ways. Like the Draytons, I live for the day I will sail in the harbor with my son and grandchild. This type of family longevity on the harbor needs to be more recognized and appreciated now and in the future.
You might have noticed how big I am on our local fleets and yacht clubs' award nights, and we still have two big events this week. Newport Harbor Yacht Club is having its annual meeting Saturday, which is perfect for me because most of the Harbor 20 class will be attending and then trying to race Sunday afternoon.
NHYC awards one of our harbor's most prestigious awards, the Burgee of Merit. The criteria for receiving the Burgee of Merit include competing in the Olympic Games, winning a major world championship or bringing unusual distinction to West Coast yachting in general. This award is not given every year, so it's always interesting if anyone will take this baby home this year. I will be attending the Harbor 20 awards night on Sunday, and there is a rumor that there is a new award being presented.
LEN BOSE is an experienced boater, yacht broker and boating columnist.