Portsmouth Folly – A Festive Event
The rain threatened, but never succeeded on canceling the festive Portmouth Folly Regatta hosted by the Balboa Yacht Club on Saturday, December 18th.
The Regatta consisted of two classes: Keelboat Fleet (which included the Harbor 20's) and the Centerboard Fleet.  A total of 9 Harbor 20's participated along with a Thistle and a Santana 20.
The race committee selected an exciting (roughly) windward / leeward course taking the fleet outside the harbor to the J mark and back to finish. With winds at about 10-12 knots, blustering and threatening weather, and swells that occasionally broke over the and into the boats, the Harbor 20's proudly and confidently tacked up the channel, out of the harbor, around J Mark, and back down the channel to the finish. Each race lasted about 40 minutes.
The Harbor 20's held their own against the Santana and Thistle (finishing 7th and 8th overall). The Harbor 20's were assigned a PHRF rating of 92, the Santana a 90.1 and the Thistle an 83.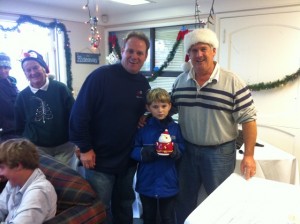 Tucker Cheadle skippering #168 with Tom Schock as crew took 1st place, Karl Pomeroy (#262) with crew Cole Pomeroy took second, and John Whitney (#130) sailing single-handled finished 3td place. Full results are available here.
Nik Froehlich (#109) sailing with Mindy and her parents and uncle, was awarded the "Most Festive in Keelboat" award.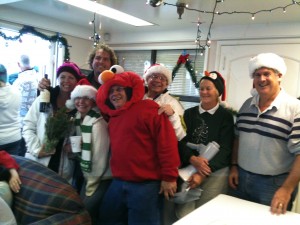 Before the awards ceremonies, the kids lead all the sailors with a unique rendition of the 12 Days of Christmas.