W.D. Schock Regatta Check-in Requirements – Transponders
If you are registered to race in the W.D. Schock Regatta this weekend, please note: There is a mandatory check in from 8:30 am until 10:45am followed by a mandatory Skipper check in at 11am.
The first warning is schedule at 12:00pm
At the check in, all race participants will be issued a transponder to carry on their vessel which will record their track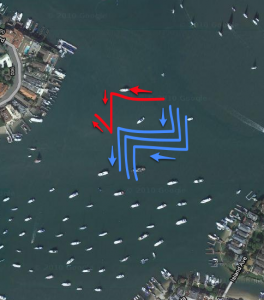 in real time which spectators will be able to watch on a monitor in the club! This transponder will track the actual course taken by each vessel as they race the course allowing spectators to watch the action as it happens.  Each vessels track will be identified by their sail number as they move up and down the course against the competitors.
After the race, the entire races will be replayed so competitors can analyze their strategy and tactics – and eventual results.
Please make sure you arrive at the NHYC prior to the mandatory 10:45am check in to receive your vessel transponder.
The NOR's, Entry and other information can be found here