Spring Twilights at M Mark
3-16-10 Newport Beach, CA Balboa Yacht Club.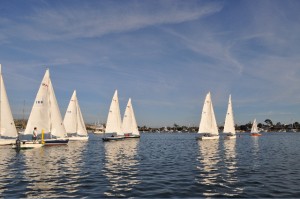 The Spring Twilights have started with 11 H20 signed up and 10 boats making it to the starting line off M Mark. The racers where greeted with a 6 knot cool breeze from the west and strong flooding current.
Jeff Keenen was our PRO with Chris Killian and John Fradkin helping with markset. With the current and the breeze constantly moving to the south all three members of the race committee stayed busy. If there where not moving marks and passing out beverages they where taking photos of the fleet. Race committee was able to get off 3 races before the breeze turned off and the sun was setting.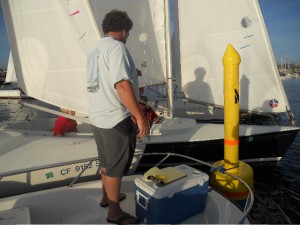 This being our first event everyone seemed as if it was the first day of school. By the time we rounded the second leeward mark people where asking for room and if there no agreement people reminded their friends of the up coming rules seminar. Which is kind of funny if you think about it.
Quotes of the night. "Hey, you guys want a Beverage?' and the reply "UUHH OK" and while sailing to the leeward mark and asking Tom Schock if he had an overlap YES was the quick reply, about tens seconds latter "Well maybe not" then the calls of room started. I knew that he had an overlap for most of that run and the only time we broke it was when I first asked and they regained it in no time. So, the inside was theirs this time.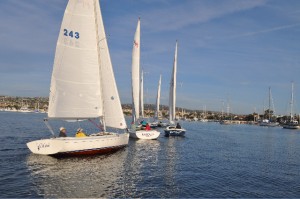 At the end of the night with the sun going down and the sound of the colors being lowered at BYC that spring smile returned to my face as I looked into the sky and I thought how I love this time of year at M Mark.
We are always looking for race committee and I think we will need someone next Wednesday?
Results can be found here.