Sailing for the Visually Impaired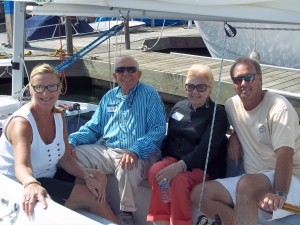 On Saturday October 15th, WORSA and ALYC held "Sailing for the Visually Impaired" where our Military Veterans and guest from the Braille Institute come down to the American Legion Yacht Club and got the chance to go sailing with volunteers on their sailboats.
This year the Harbor 20 Fleet 1 was well represented. There was Ed Kimball (Dragon Lady) and Michael Volk (Lighting) taking folks out in their boats, as well as Andy and Lori Everson crewing on a larger vessel allowing even more guest to enjoy a great day on the Bay.  As always, Peter Haynes was helping coordinate between LIYC and ALYC making it possible to open up slips at ALYC to facilitate loading our guest on their vessels.
They all did a great job and allowed 200 guest enjoy a sunny day out on the water.  Thank you to Ed, Michael, Lori, Andy and Peter and Harbor 20 Fleet 1.