Four Harbor 20s Participate in The Border Run Regatta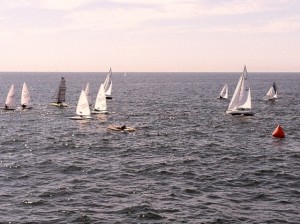 On Saturday, four Harbor 20 sailors participated in the "Sprint" course of the annual Border Run Regatta.  The Sprint Course was a 14 mile "dash" from the Balboa Pier to the Dana Point Harbor.  Vessels included Harbor 20s, Lasers, Dingy's and various other sailboats. The four Harbor 20s were accompanied by two chase boats: a Catalina 36 and Tiara 34 just in case the wind died and the sailors needed a tow into safe harbor.
The race started at 12 noon with a 8-10 knot southerly with some sailors taking the header out to sea while others taking a lift towards the coast. On everyones mind was whether or not the wind would shift to the West as predicted. Karl Pomeroy (Knot at Work #262) had a strong start and held the lead of the four H20s and kept to the center of the course early in the race. Emile Pilafidis (#209)  and Steve Woodward (#300) started outside while Nik Froehlich (#109) tacked early toward the coast.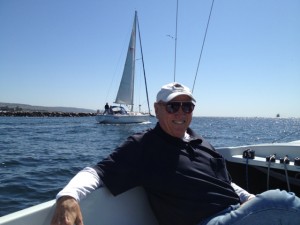 Moving at about 4 – 5 knots, at about 1.5 hours into the race, it seemed as though Nik Froehlich had taken a strong lead while Emile and Steve tacked back toward the coast. At about 3 hours into the race, Nik Froehlich, with his crew Rolly Pulaski seemed to be taking a leisurely cruise alone the coast chatting about history of the southland and architecture, as the rest the H20 fleet started to gain. Failing to consolidate their lead, Nik found himself hugging the coast near the Ritz as the rest of the fleet, further out to sea, enjoyed the increasing Westerly that sprang up taking them fast to the finish line on a reach.
Karl finished 3rd out of the 9 total boats entered in the Sprint XS Mono C Class, 11 seconds (corrected) behind the 2nd place finisher, with Emile finishing next for the H20s, followed by Steve, and Nik ending up with a DNF as the wind died forcing Nik to motor around the point to the Dana Point Harbor after the 1700 hour deadline.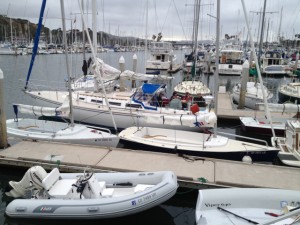 The DPYC provided slips for the four H20 boats and the two chase boasts and hosted an awards party and dinner. The H20 sailors slept on their boats and on the chase boats Saturday night, and did a combination sail/tow back to Newport on Sunday after a delicious breakfast cooked by Warren & Helen Duncan aboard Tara.
Thank you to Mark Durante and his crew for the Tiara 34 and Warren & Helen Duncan on the Catalina 36 as chase/support boats; Steve Woodruff for coordinating the Harbor 20 boats; Andrew Anderson, Port Captain of Dana Point Yacht Club for providing overnight slips; Michael Volk for taking pictures of the start from the Balboa Pier; and the South Shore Yacht Club for hosting a great event for the Harbor 20s.
More pictures of the event can be found here.