H20 Team Racing, Tomorrow, for Beginners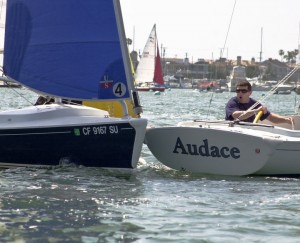 WED…WINDS VARIABLE 10 KT OR LESS…BECOMING W 5 TO 15 KT IN THE AFTERNOON.
Not sure if you noticed? It's Spring and the sun is out and the breeze should be between 8-12 knots tomorrow. Even if your boats at the Baldwin Cup we should be able to find a boat for yea. We are meeting at M Mark 5:30ish to about 7:00, Team racing practice for everyone interested. Keep in mind this is more like a clinic/practice than a race. Just coming down and watching from the committee boat will help you sail faster! Please RSVP at boseyachts@Mac.com or call me at (714) 916-0200.
More team racing tips