My Move to H20s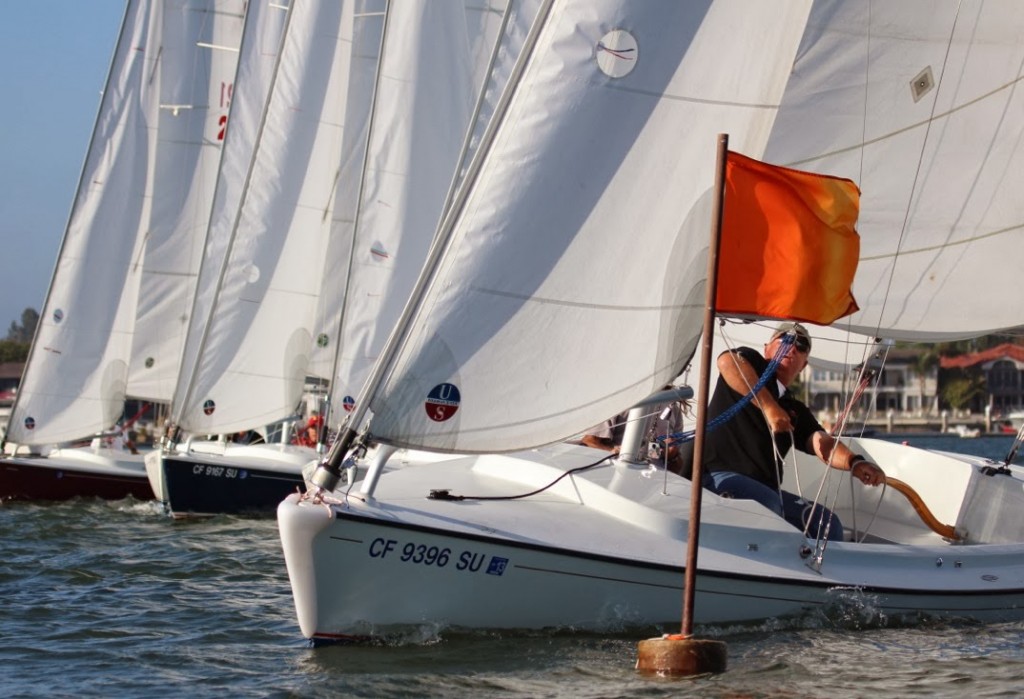 Over time I have taken part in many fleets from Hobie 16's, handicapped fleets, Schock 35's, Lido 14's and now Harbor 20's. During my involvement in these fleets I have taken away different lessons from each.
Like so many of us my first exposure into the sport of sailing was racing Hobie 16's. This fleet had every component to keep sailing fun and its fleets healthy. In my view its strength grew from within by supporting its D through A fleets. This along with a camping environment where everyone who attended these regattas would camp at the events together. This led to good times and fantastic social events. In fact, I feel a lot of this class strength was because it was not based out of a yacht club (cut s) environment. Class rules kept competitors from out spending each other and race courses were less than five minutes from the beach.
Why did I leave the fleet?  It was simple, I became too heavy and I could no longer compete. The boat is very physical from launching to hiking out. I can recall many windy regattas pitch pulling the boat and swinging out in front of the headstay and into the water. The speed was fun but it quickly became a young person's game.
Today I have moved to the Harbor 20 and yes I miss the times of spilling out of my Toyota camper shell like Jeff Spicoli from Fast Times at Ridgemont High. What has kept me so passionate about this fleet is that I can compete, at the highest level, with my son, wife or even my seventy five year old father as crew.
One of the biggest lessons I learned, while sailing Lido 14's, was that the strength of the fleet is in its B fleets members. One of the strongest features to the Harbor 20 fleet is that if you do not qualify to stay in A fleet, within a season, you must move down to B's. This has kept the B fleet very strong. In fact Fleet 1 in Newport Beach has now created a C fleet. What happened in the Lido fleet was once you made it into A's you did not have to go down to B's. This kept the B fleet very small and all the attention was kept on the A's. As a competitor there is only so long you can keep taking a beating from the top of the fleet before you lose interest.
The Harbor 20 fleet was very fortunate to be designed for Newport Harbor by a group of founding members that blended their past experiences into one of sailing's best one design sailboats to date. With its class rules. a competitor will not be outspent by an opponent. Because the fleet can race in the harbor the competitors are only five to fifteens minutes from the race course. Because of its design a skipper can sail by himself or with any of his family members no matter. what their age. Fleet one continues to promote social events from a summer party to a holiday awards banquet.
Keeping the class sailing, by the sailing rules, is also an important factor to the fleet's success. The fleet grew very fast and in the beginning the rules where very, shall we say, relaxed. Bumper boats is what started to occur and what everyone quickly experienced was the cost of gel coat repairs was not fun and very unhealthy for the fleet. In an effort to stop the bumper boats effect, three rules seminars are offered each year. Members are encouraged to do their circle if they have fouled an opponent and discuss their opinion of the rules after racing. This alone has reduced the bumper boat syndrome by half and more ideas will be used this coming season. Such ideas are marking the three boat length circle to an on the water umpiring and coaching during our summer races.
This fleet understands that a great deal of its strength will come from sailing youth. With a local effort towards team racing the fleet continues to attract sailors from the age of twenty-two to thirty.
All the variables keep lining up to keep the Harbor 20 fleet strong. I just cannot explain how fortunate I feel to be at the right place and time to take advantage of it.
If these types of variables line up for you in your area, perhaps you should consider the Harbor 20 fleet.