Taco Tuesday Recap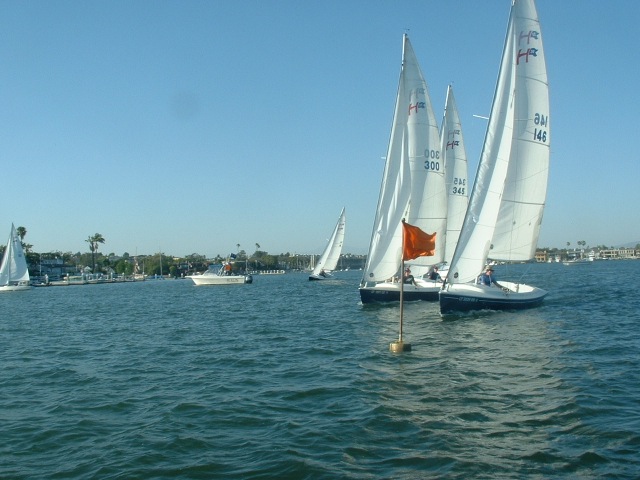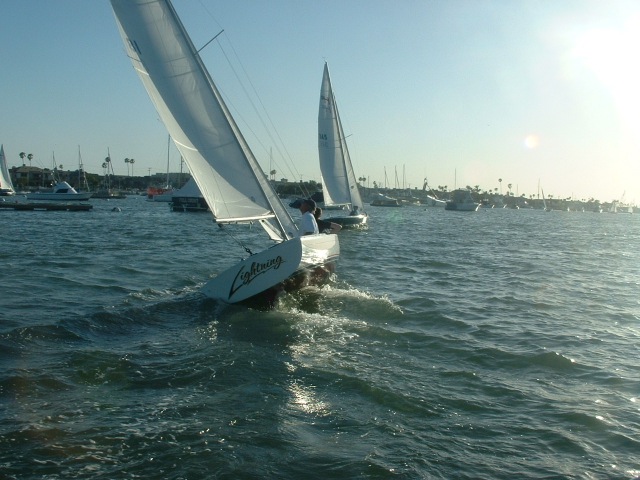 This last Tuesday night started the 2014 Taco Tuesdays summers series. Fourteen boats made it to the starting line and were greeted with an un-seasonally warm weather and puffy conditions.
Prior to race time the wind had shifted from a prevailing Santa Ana, wind out of the northeast, to our normal westerly at about 8-12 knots with puffs getting close to 15 knots. For a H20 sailing in Newport Beach,  it was "breeze on!"
In an effort to support the fleet and the Bahia Corinthian Yacht Club I thought it would be a good idea to be present on the race course from the advantage of a coach boat. With this in mind I used Walter Johnson's idea of setting three marks sixty feet to weather of the leeward mark to indicate the three boat length zone.
As the race committee went into the practice start sequence, I estimated that we had a least five practice starts, I went around to C and B sailors and asked them if they would like my assistance and observations before and after racing to increase their performance.
One of the first people on the starting line was Jesse Rivera aboard the syndicated boat # 14 "Harbor Sol". Rivera has been sailing on the harbor for many years as part of the Peterson 34 Pussycat team. But when you throw a new person, with a new boat, into the H20 fleet on a windy Tuesday night it can be a bit overwhelming. When I approached Rivera and asked if he would like any coaching, he quickly accepted. The first thing I told him was that he needed to flatten his main by raising the halyard all the way up to the black ban, maxing out his outhaul, backstay and then vang. He sailed rather consistently throughout the night and became much more comfortable in the boat.
Next I approached Michael Volk aboard boat # 81 "Lighting". After accepting my invitation to coaching we did the same thing as Rivera and flattened out his main. I also spent some time following Volk around the race course and made a number of suggestions after the race was completed.
I noticed that many people where having a difficult time pulling in on their main sheet while rounding the leeward marks and placing themselves in the right position within their own boats. Last winter I wrote a short blurb on how I practice my boat handling, so if a couple of skippers would like to meet me at BYC some weekend, I would be willing to run a ninety minute practice at M mark.
You have all noticed Peter Haynes seminars schedule? From what I observed last Tuesday night most all of us should attend Haynes next seminar "Boat Handling and Sail Trim" on June 21.  I have attended these seminars in the past and can attest that this is time well spent.
I will be coaching next Tuesday and will be following the same format. The best way for you to take advantage of this coaching, other than sailing Tuesday nights, is to attend the after race festivities at BCYC. Buy me a drink, and we can review what we learned on the water that night. This is also the perfect time to review the racing rules.
The after racing activities was fun this week with quotes from John Whitney: " That's what those little white marks where for." Michael Volk" " Thanks for helping me out Len, is there a time when we practice together?" Jesse Rivera: " I got the boat Tuesday nights and will be here all summer long. I want to learn more!"
We need volunteers! I would like to make this program work throughout the summer and not give up all my racing time. Is anyone interested in joining me next week and then taking it upon yourself the following week? Call me if you can help!
sea ya
Len Bose