BCYC Taco Tuesday #2 Recap
If you did not make it to BCYC Taco Tuesdays # 2 you plum missed out on an epic night! The breeze was out of the west at about 11-15 knots with a few intimidating dark clouds lingering in the sky. The A's and B's started together and had nine boats on the line. While in C fleet five boats showed up at the starting line.
The first thing I noticed on the race course was "I like my boat." Zack Maxam and his girl friend Christine, volunteered to sail my boat while I hopped back into the coaching boat. I knew that the breeze would be up and I set up my upper shrouds at 28 and my lowers at 18. During the last beat of the night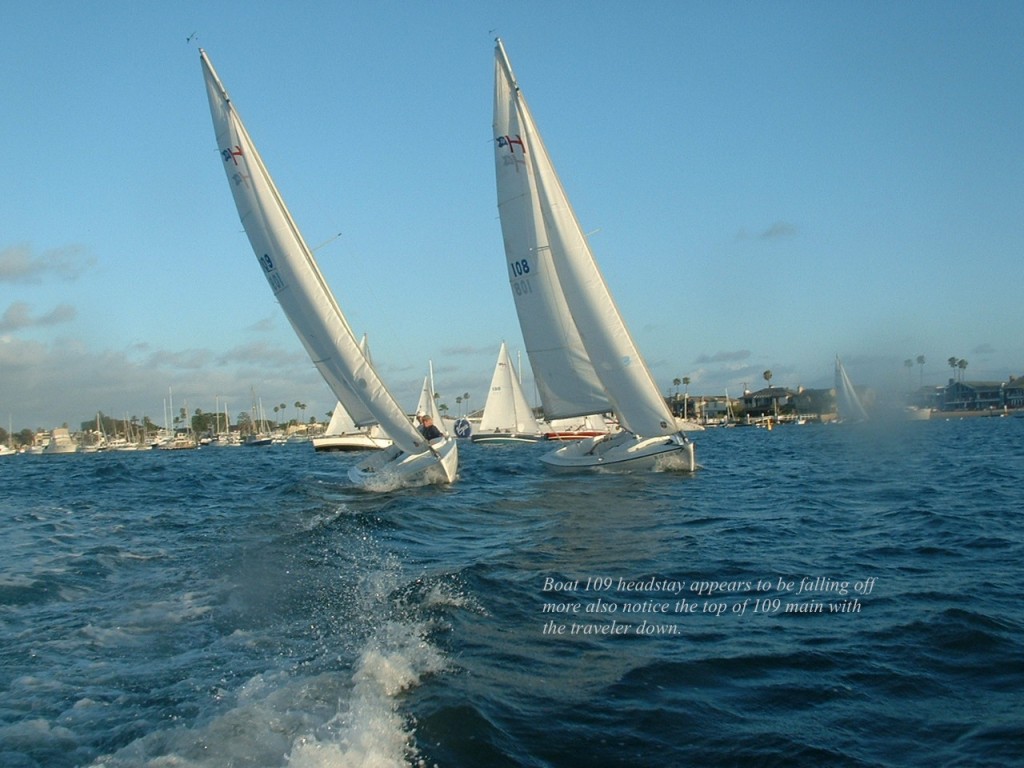 I powered through the fleet and got in front of the two lead boats #109 & 108. By looking at this photo from this angle it appears that boat 108 headstay is not following off as much as 109. Also notice that boat 108 had its traveler down all the way, look how the top of the main is opened up. From my perceptive I still going to keep my traveler centered in the bigger breeze and should the breeze reach 17+ knots I will throw in a reef between races.
What else did I observe? There are many people sitting to far back in the boat while sailing to weather.  Scroll through the photos and take a look and what I am talking about. While attending Peter Haynes boat handling course, keep in mind the next course is June 21, I learned that the helmsmen should be sitting to weather in front of the tiller, with the crew sitting shoulder to shoulder with the helmsmen in heavy breeze.
I also noticed people, with tiller extensions, move the helm more than people with two fingers on the tiller.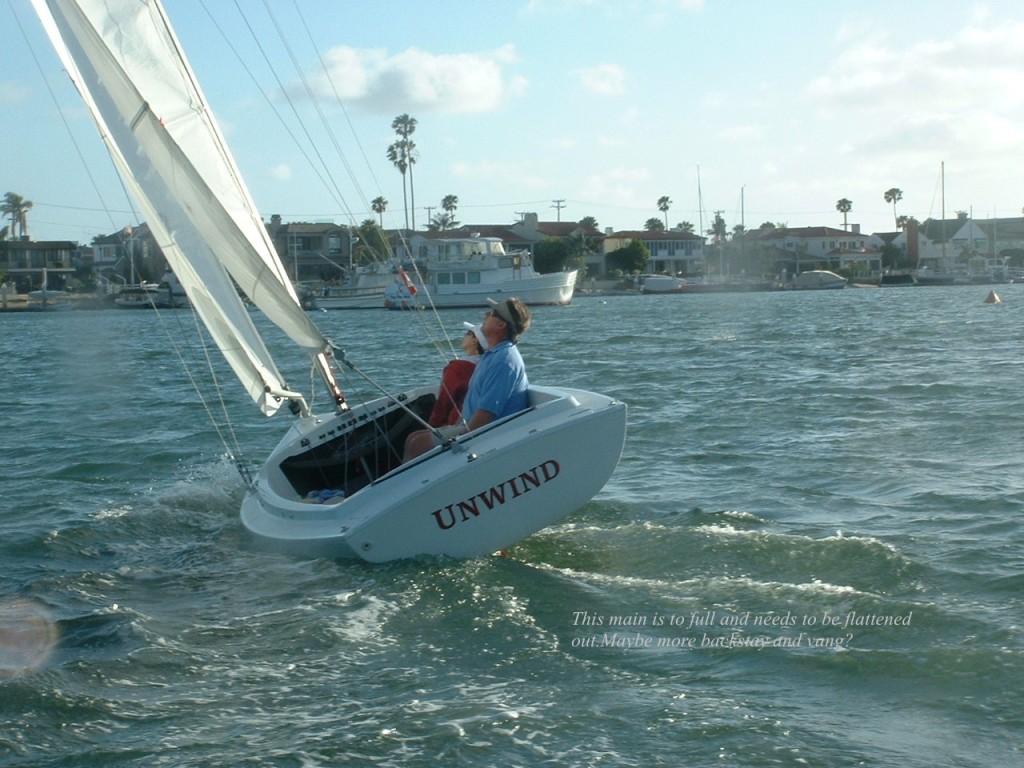 While attending Haynes seminar on June 21 at BCYC pay close attention on how to flatten out your sails. Again scroll through the photos and look for your boat. Then tell me if you have enough downhaul on your jib or backstay and outhaul on your main?
I would encourage everyone to come aboard the coach boat, at least once this summer, and watch the races from a different perspective. Peter Haynes has told me he is willing to coach the month of July. I would like to keep the coach boat out every week and get other opinions on how to achieve optimal performance from our boats and take photos.
I am going to start racing next week and need some volunteers coaches?  We are just looking for one night, showing up at BCYC by 5:15 and the boat will be ready for you.
Quotes of the night:
Shana Conzelman was quick to inform me that I had added Marks points incorrectly and he still needed to win one more B fleet race before he goes up into A Fleet. When I asked Shana and Mark if they would place a web cam from their house onto the race course for this summers Tuesdays and Thursdays races they said they would look into it. The Conzelman's have a perfect view of the course from their dock and if anyone can pull this off they can. This would be a perfect tool to sell the fleet and increase attendance.
Nik Froehlich " I like what you are doing out there Len."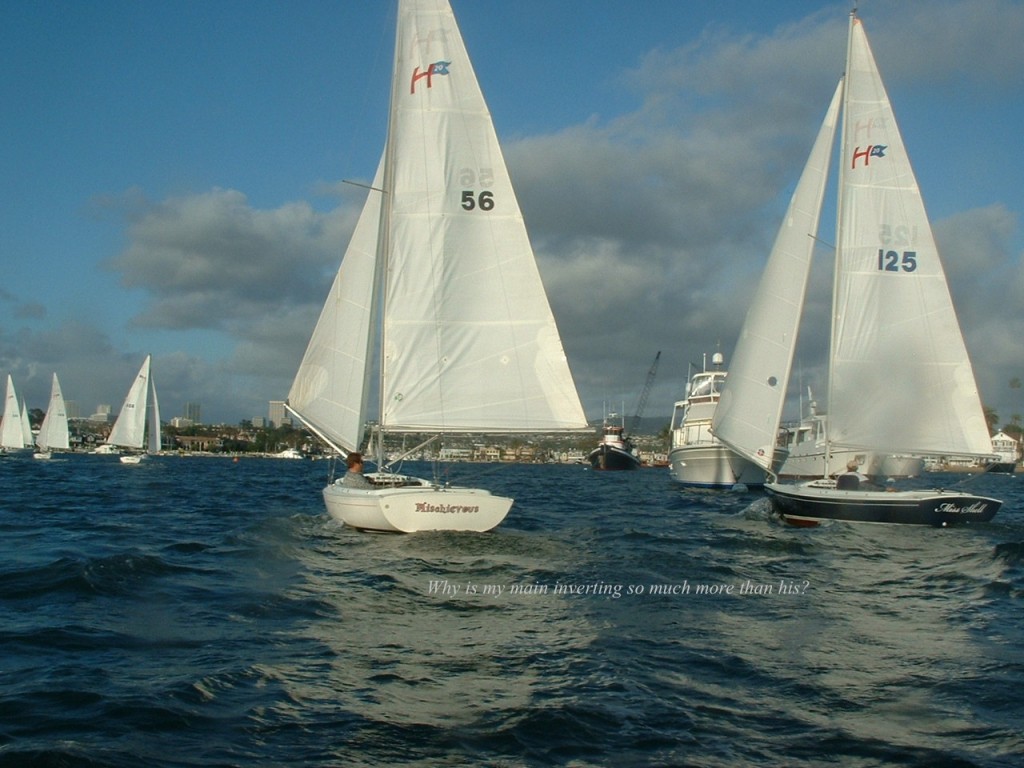 David Levy " I can't figure out why my main is inverting so much down wind?"
Emile Pilafidis came up to me twice " Did you get photos tonight, it's a spectacular evening."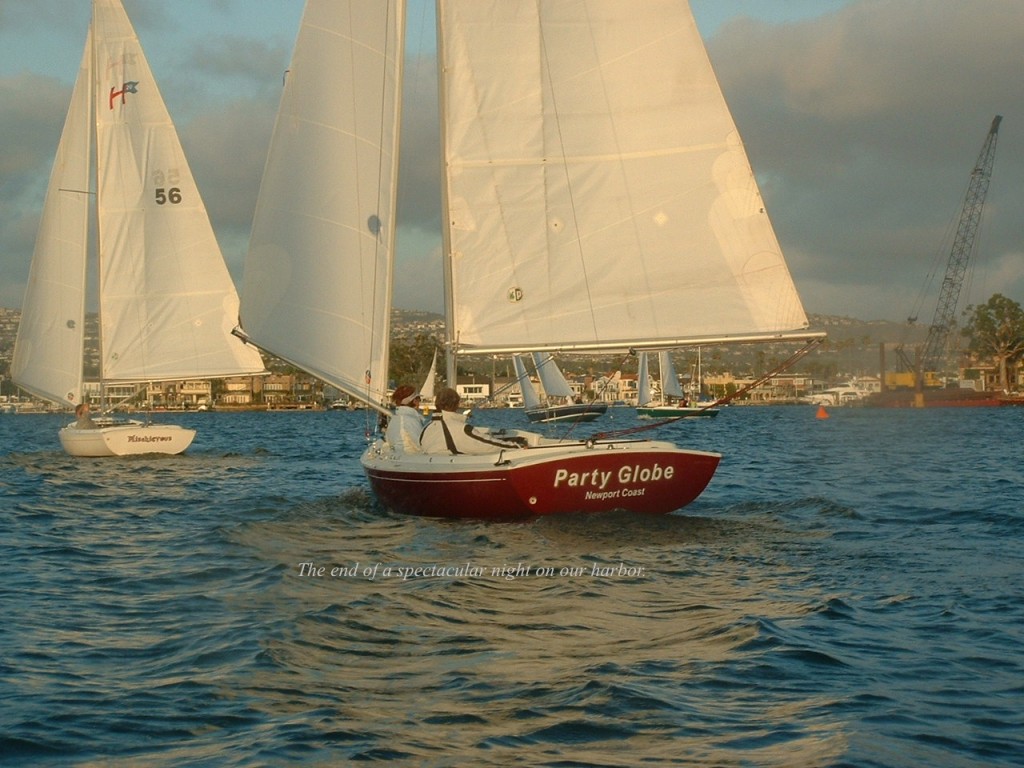 For up to date photos and comments go to my facebook page at Harbor 20 Fleet 1 Newport Beach or my blog site at lenboseyachts.blogspot.com
That was one of the better nights we have had in a long time!
Sea ya
Len Bose