Close Racing, Great Parties at Harbor 20 East-West Regatta
Harbor 20 Fleet 3 and South Carolina Yacht Club hosted the 2015 East-West Challenge Regatta at Hilton Head Island, South Carolina, October 22-25.  Teams of three crews each from Fleet 1 (Newport Beach), Fleet 3 (Hilton Head), Fleet 4 (Santa Barbara) and Fleet 5 (Annapolis) sailed eight races in boats provided by Fleet 3 with assistance from Fleet 5.  Races were run in Calibogue Sound by a national race officer in moderate breezes with fairly strong current.  The East team (Hilton Head and Annapolis) beat the West team (Newport Beach and Santa Barbara) by a score of 228 to 275, earning possession of the East-West Challenge Trophy for the next year.  Hand-carved half-models of a Harbor 20 were awarded to the skipper and crew with the top three best individual performances in the regatta.  They were Chuck Millican and Ned Nielsen (Fleet 3), Ed Kimball and Gary Thorne (Fleet 1) and Domenico De Sole and Joe Highsmith (Fleet 3).  Just two and three points behind with the fourth and fifth best individual performances were Carter Ford and Kurt Wiese (Fleet 1) and Peter Trogdon and Jeffrey Scholz (Fleet 5).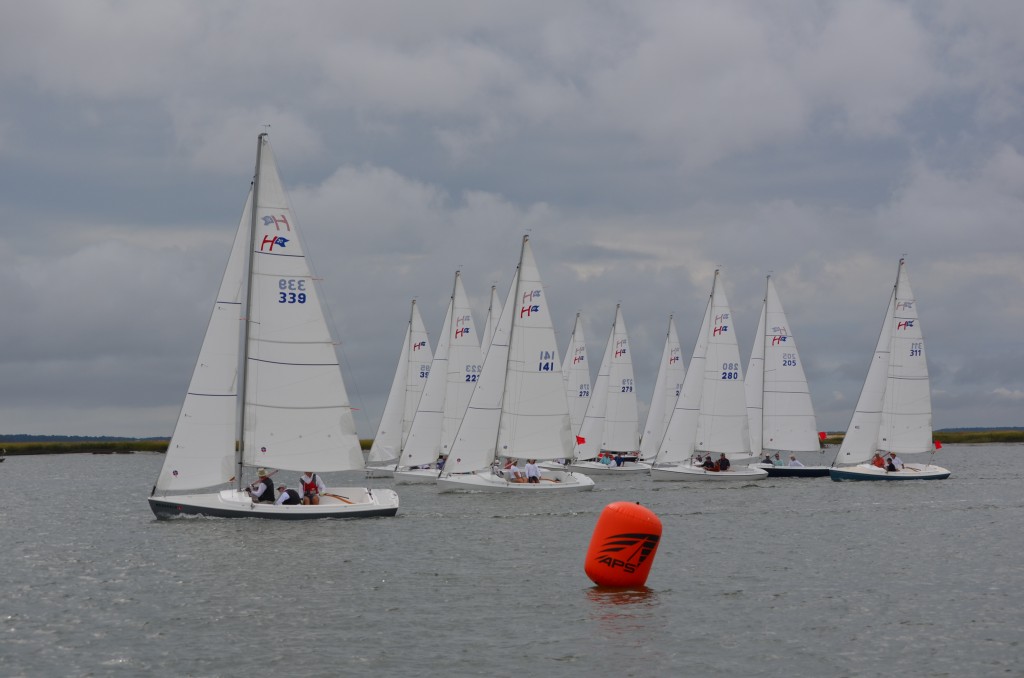 All of the competitors and their spouses, along with the 40 Hilton Head volunteers who organized and ran the regatta, enjoyed great parties every evening.  A Thursday evening welcome reception at South Carolina Yacht Club was followed by a Friday evening Carolina Low Country buffet dinner poolside at the Club.  On Saturday all 80 people went to Mary and Joe Highsmith's home on the May River in nearby Bluffton for an Oyster Roast and Pig Roast with live bluegrass music provided by the band Low Country Boil and a dance floor under the old oak trees that was hopping after dinner.  Sunday after racing competitors gathered for light refreshments on the Club deck where the Club officers and founders received a plaque thanking the Club.  Then it was on to a fabulous Awards Dinner at the oceanfront home of Eleanore and Domenico De Sole.
On Friday evening before dinner there was an hour-long discussion meeting among the members of the Harbor 20 Class Association who were present.  Kevin Keogh, the event chair for the regatta, introduced the Fleet officers who were present, who included at least two officers from each participating Fleet, plus two officers of the national Class Association and three representatives of newly-formed Fleet 6 in Sarasota, Florida.  The topics on the discussion agenda included how to recognize the geographic growth of the Class by involving representatives from Harbor 20 Fleets outside of Newport Beach in the governance of the Class, the possible format for a Class national championship in addition to the East-West regatta, compliance with Class one-design rules including boat weights, sourcing of sails from sailmakers outside the Newport Beach area and initiatives for growing the newer or smaller Harbor 20 Fleets.  The constructive discussion allowed the Class officers who were present to take some ideas back to Newport Beach for Board consideration.
The 2015 Harbor 20 East-West Challenge Regatta was the eighth time this event has been held.  It started as a challenge between the Hilton Head and Newport Beach fleets and expanded to include Santa Barbara and Annapolis.  The venue alternates between East and West Coast.  The 2014 event was in Santa Barbara, 2013 in Annapolis and 2012 in Newport Beach.  The host fleet provides the boats that all competitors sail and provides housing in the homes of local members for those visitors who request it.
Here are the final scores of the 2015 Harbor 20 East-West Challenge Regatta:
Team Scores
East (Annapolis & Hilton Head): 228
West (Newport Beach & Santa Barbara): 275
Click East-West Final Scores for complete, detail and individual scores.
More photos and article by WD Schock is here.