The Leukemia Cup Regatta
Raise a sail with The Leukemia & Lymphoma Society's (LLS's) Leukemia Cup Regatta , a thrilling series of sailing events that combines the joy of boating with the important task of raising money to fund life-saving research and patient services to help improve the quality of life of blood cancer patients and their families.
This is a One-Day Fleet 1 High Point Event.
Official Notice Board and Registration
Skippers register their boats and recruit their friends, co-workers and family to help crew and raise funds to participate in the culminating Leukemia Cup Regatta Race Weekend. Sailboat enthusiasts, those who like to watch from shore, and those with a passion for curing cancer are invited to attend the social gatherings and fundraising events prior to race weekend.
MEET GARY JOBSON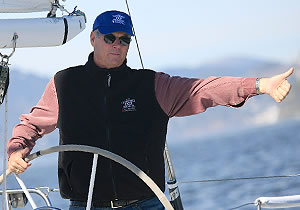 Gary Jobson is a world class sailor, television commentator and author based in Annapolis, Maryland. He is a past president of US SAILING, the national governing body of sailing. Gary has authored 18 sailing books and is Editor at Large of Sailing World and Cruising World magazines.
Jobson has been ESPN's sailing commentator since 1985. He won an A.C.E.  (Award for Cable Excellence) for the 1987 America's Cup.  In 1988, Jobson won an Emmy for his production of sailing at the Olympic Games in South Korea and won an Emmy for the 2006 Volvo Ocean Race on PBS. He has covered the Olympics five times for NBC, and covered the 2013 America's Cup for NBC Sports.  Jobson has won four Southam Awards and one Telly Award.  His newest book, Nantucket, A Sailing Community, was published in November 2012.  Jobson also produced a film, Energy on Trial.
He has won many championships in one-design classes, the America's Cup with Ted Turner, the infamous Fastnet Race and many of the world's ocean races. Jobson was an All-American sailor three times at the State University of New York Maritme School and was twice named College Sailor of the Year.
In October 2003, Gary was inducted into the America's Cup Hall of Fame by the Herreshoff Marine Museum.  In 1999, Jobson won the Nathanael G. Herreshoff Trophy, US SAILING's most prestigious award.  This trophy is awarded annually to an individual who has made an outstanding contribution to the sport of sailing in the United States. Gary has been the National Chairman of the Leukemia Cup Regatta, The Leukemia & Lymphoma Society's sailing program, since 1993. These events have raised over $54 million to date.
Over the past 35 years, Gary has given over 2,000 lectures throughout the world.  He started his career as a sailing coach at the U.S. Merchant Marine Academy and the U.S. Naval Academy.
In 2003, after years of committed service on behalf of The Leukemia & Lymphoma Society, Jobson was diagnosed with lymphoma and, in his words, "became a beneficiary of the research advances I had helped support." He is now cancer-free.
Learn more about Gary Jobson at www.jobsonsailing.com