Harbor 20s in the Spotlight – Baldwin Cup Team Race
Ten domestic teams and one international yacht club team will face off using Harbor 20s in this fully umpired,  4 v 4 team race event.  In order to accommodate the overwhelming interest to compete, the OA has expanded to three fleets of boats allowing for a 12-team line up.  This spectator-friendly regatta will be sailed in a vacated mooring field directly in front of the NHYC main dock, a perfect place to watch the action with friends.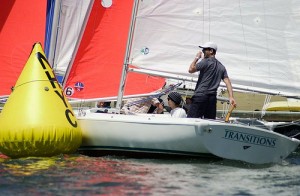 Twenty-six Harbor 20s have been loaned to the NHYC for the event. Each boat received a big dose of TLC as dozens of volunteers have worked for weeks preparing the boats for the event. Each boat got a nice buff and cleaning, repairs and tuning. The boats have been outfitted with colored jib sails to represent the different teams.
Enjoy and keep up with the event through one of many options: From the Docks of NHYC, where you can enjoy 25¢ beers and front row seats to all the action;  Live WebCam; Kattack GPS Tracking. Or follow the action on the Baldwin Cup Facebook Page, or get live updates via the Twitter account or visit the Baldwin Cup Website.
The eleven teams competing are:
Balboa YC  (CA)
Boston YC  (MA)
New York YC  (NY) (2010 winners)
Larchmont Yacht Club (NY)
Newport Harbor YC – Blue (CA)
Newport Harbor YC – Orange (CA)
Rochester YC  (NY)
Royal Thames Yacht Club (UK)
Seattle YC  (WA)
Southern YC  (LA)
St. Francis YC  (CA)