Race Education Begins for 2012
Race education for the 2012 season started off with a bang with the "Understanding the Racing Rules of Sailing" seminar on Sunday, January 29, at the Bahia Corinthian Yacht Club. Thirty five people attended, from as far away as Los Angeles, Redlands, and Santa Barbara. A number of C-Fleet folks were in attendance as well as several new Harbor 20 owners. And, about a third of the attendees were from other fleets, primarily PHRF, now that folks are starting to look to the Harbor 20 Fleet as the place to learn about sailboat racing. As this experience can be a bit like "drinking from a fire hose", there were also many repeat attendees, some who have been up to six times.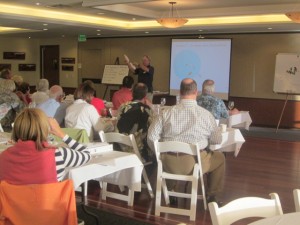 "As a B sailor rules have always been hard for me. The visual approach really helped" -Kathy Sangster
"The best rules seminar I have ever been involved with". -Sandy Mills
"A must for anyone racing sailboats. Peter makes a complex and arcane set of codified rules understandable and interesting. This fast paced one-day class is supported with excellent reference materials". -Bob King
"The animations bring the rules to life. This course provides a chance to experience the rules with examples that allow the student to connect the actual rules to the practical application of getting through the race. Should be required course work for all participating in large fleet racing". – Mike Psomas
"Having never had andy formal sailing training, I am very happy to have attended this seminar which helped me begin to understand how important the rules are to making the race fun, safe, and fair". -Donna Vordale 
"I can clearly see why the crew needs to come too". -Ted Reed
If you missed this event, the Rules seminar will be repeated on September 9, three weeks before the Championship.
The next seminar will be "Boat Handling & Sail Trim" on March 11. We hope to see you there!