H20 "Nuts" Series #2 – Saturday March 28
Posted on behalf of Len Bose and John Drayton: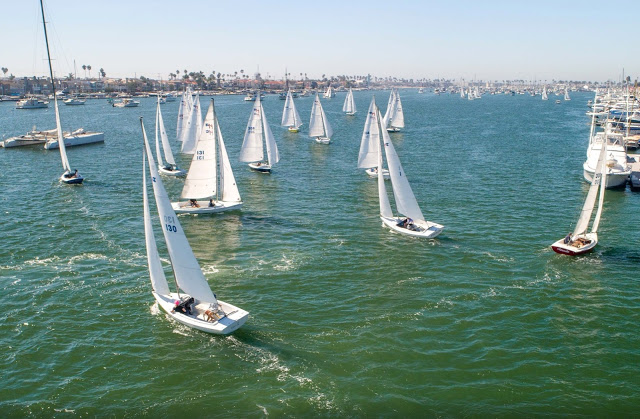 Hello everyone, Welcome to the "Nuts" series, week 2 "Mixed nuts".
"The "Nuts" series is informal (i.e. just a bunch of sailors showing up). This is not a sanctioned event by any club or the H20 class. The Harbor Dept is aware that we will be out, and they considered this to be an appropriate activity (like getting outdoors to exercise) as long as sailors follow CDC guidance by either single-handing or sailing with family members or housemates."
This Saturday racing PRO will be John Draton. Draton has taken the time to write up proper sailing instructions along with an explanation of how the racing will be conducted. Phil Thompson will be on the water again offering coaching and mark set. If you would like Thompson to critique your sailing just ask. 
Weather models are indicating a light breeze out of the south somewhere between 5-10 knots with the tide going out ever so slightly.
Race committee will be in a white Duffy, hope to see all of you on the water again? Please let me know if you can make it.
From our PRO:
Harbor 20 Sailors –
We're looking forward to hosting H20 "Nuts" racing this Saturday afternoon (3/28). Click here for the Sailing Instructions , but here are some notes about our planned racing format for this weekend:
Starts: Standard 3 minute starts. Clock not rolling.
Fleets: We are planning to break up the fleet differently this weekend. Our goal is to have about 10-15 boats on the starting line for each race but to mix up who's in each fleet. For example:
Race 1a – odd sail numbers
Race 1b – even sail numbers

Race 2a – lowest sail numbers (eg. all sail numbers <150)Race
Race 2b – highest sail numbers (eg. all sail numbers above >150)
Etc…
Last race will be a single fleet race, with one long starting line, and a longer course.
We will do everything we can to help communicate what we are doing in each start (noticed via loud haler, VHF, dry-erase board). And if you have a question about who's starting, just sail by and ask. 
One of the goals for mixing fleets up is to create opportunities for sailors to see firsthand what other top sailors are doing (e.g. a C fleet sailor can line up next to a top A sailor to see how another boat sets up). Ideally, the "Nut's" format can be a learning opportunity for everyone.
Courses: Racing will be windward/leeward, but we're planning to have the start/finish line set below the leeward mark (i.e. similar to a match racecourse). Lines not restricted, but racers should only be going through the start/finish line when they are starting or finishing. Downwind finishes should make things interesting tactically.
Scoring and Trophies: Scoring will be low point, and broken out by A, B, and C fleet for overall scores. Make sure to sail by and check-in with the R/C and let us know what fleet you want to be scored in.
Please let me know if you have any questions. For those of you that carry a VHF, I'm planning to use channel 68 for any RC communication (definitely not required).
Looking forward to seeing everyone on Saturday. Please be respectful of Covid-19 restrictions, and either single-hand or sail with a housemate.
Click here for the Sailing Instructions.
regards Len Bose
(714) 931-6710
lenboseyachts.blogspot.com