For Sale – 2001 Harbor 20 #138
SOLD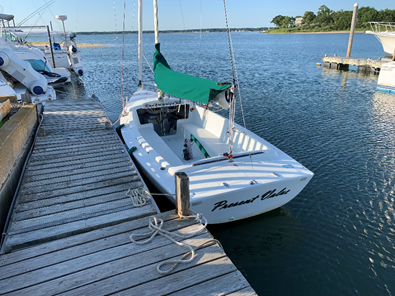 Price: $15,000 (including trailer)
Owned and lightly used by present owner since 2005
New Running Rigging and Standing Rigging 2015/16
New Sails 2015 (with boom cover and UV strip)
Other options:
White hull, Off-white Deck, Green boot top and green cove stripe
Torqeedo 1003 on swing-arm 2014
2:1 Jib outhaul, Jib winger
Mast hinge & Boom Kicker
Spinnaker (no pole) added by owner
2nd reef line and extra purchase for Cunningham
Electric package, navigation lights, dual batteries and switch, electric bilge pumps (2)
Lifting eyes
Copperpoxy bottom
Road King trailer (used only for storage) – road ready
Winter cover and mast carriers
Lightly used from June-August with a few seasons skipped. She is in very good shape. More photos available.
Boat is located Long Island, NY. Please contact David C (908-256-4910 or d.dec@verizon.net)